What is the story: Samantha Lopez joined UPS as a driver helper during peak season with her sights set on one day attending medical school. Now, 17 years into her UPS career, she has progressed through 10 positions, feeling empowered and rewarded with each new opportunity.
Why it is important: While a tuition reimbursement programme was the initial driver of Samantha's decision to accept a full-time position at UPS, it was the potential she saw at every turn that convinced her to stay and build a career.
With assistance from UPS, Samantha juggled her responsibilities as a full-time student studying biology as well as part-time supervisor. She loved getting to know the many different career paths offered at UPS and was eager to try new roles.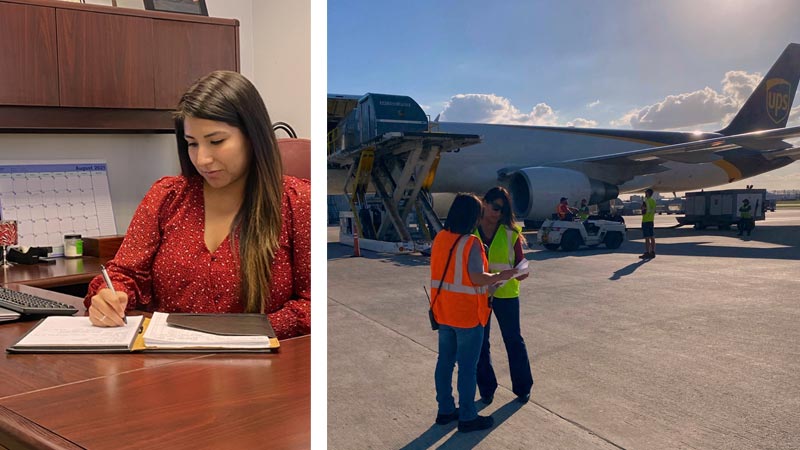 Digging deeper: Samantha is now a South Air division manager in San Antonio, Texas, even though a few years prior starting at an airport, she had never even been around an aircraft.
'I had zero experience and was terrified', Samantha said. 'But I was determined to learn. We got results, and I loved it.'
That willingness to take risks and understand the business led Samantha down a career path she never could have imagined – and she has never looked back.
In her words: 'Initially, I did not see myself at UPS long term', Samantha says. 'But I found a passion for what I do. I love helping my team learn, grow and change their lives for the better.'
'People who come on as a seasonal hire should absolutely consider UPS as a career', she continues. 'The sky is the limit. You have no idea what a job at UPS can turn into.'
At UPS we pride ourselves on our promotion-from-within policy – many UPSers begin part time and then apply for full-time jobs once they have learned the skills and proven themselves (like an apprenticeship system).
Become the next UPSer: We are planning to hire more than 100,000 seasonal workers to help make this year's Christmas holidays special. In early 2022, nearly 35,000 seasonal employees (well over 30% of seasonal hires) were offered permanent jobs with the company.
Never miss out on a UPS opportunity by visiting the UPS jobs site and setting up a job alert today. Current UPSers can also refer friends and family for UPS jobs at ups.loop.jobs.