What's new: UPS tractor-trailer driver Kevin Byrnes attended a White House event on expanding and improving trucking jobs Monday, April 4.
"An email comes in from the White House with a fancy invitation and it says 'the President requests your presence,'" Kevin said. "It was just so humbling. Made me proud to be an American and to be a truck driver."
Who is Kevin: The New Jersey resident is an America's Road Team Captain, a distinction he earned Jan. 18 through the American Trucking Associations (ATA). As a Captain, he travels the country to talk safety and to teach about the industry.
"What an honor to be at the people's house representing the ATA, America's Road Team, the Teamsters, UPS and truck drivers in general," Kevin said. "Putting us out there like this showed people a great career choice they might not be thinking of."
Why the event: A decline in qualified big rig drivers (Class 8) in the U.S., combined with a surge in demand during the pandemic, drove up costs and contributed to supply chain delays. The event highlighted how companies like UPS are delivering solutions and creating new jobs – in fact, the White House declared 2021 as the best year for trucking employment growth since 1994.
What UPS is doing: The company is one of 100-plus employers that recently started a registered apprenticeship program, and will be working with the Department of Labor, states, FASTPORT and labor partners such as the Teamsters.
How it helps: In short, the program helps recruit, train and retain drivers in an industry with some carriers suffering turnover as high as 90%, according to the White House.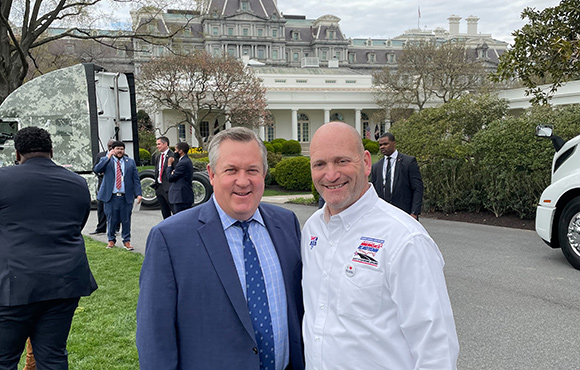 "Public-private partnerships like this one are delivering real opportunities for truckers and truckers-to-be across the country," said UPS Head of U.S. Government Affairs Mike Kiely, who was also in attendance. "Not only does this program help us train more of our people, but it opens doors for us to recruit potential employees from new sources."
Did you know: The company provides industry-leading pay and company benefits for drivers without the burden of leasing, fuel, insurance and maintenance. UPS tractor-trailer drivers average nearly $169,000 a year in wages, benefits and pension contributions. 
Pictured (top): America's Road Team Captains, including UPS's Kevin Byrnes, represented the trucking industry at the White House. Pictured (bottom): Mike Kiely and Kevin represent UPS at the event.