Small businesses have been hit hard over the last year and have had to evolve in order to survive.
This year, The UPS Store's third-annual contest celebrates small business resilience. Together with Inc. magazine, The UPS Store will host a series of virtual events focused on small business owners who have adapted and persisted through the pandemic challenges.
"The last year has forced small business owners to adapt like never before," said Michelle Van Slyke, senior vice president of marketing and sales at The UPS Store, Inc. "This year's Small Biz Challenge will not only help entrepreneurs learn from each other through a series of dynamic and informative virtual discussions, but also celebrate their tenacity and perseverance."
Enter the Small Biz Challenge by May 8
Small business owners can share how they persisted through the last year's challenges for a chance to win up to $25,000.
To participate in The UPS Store Virtual Small Biz Challenge, eligible entrepreneurs can visit inc.com/theupsstore and complete the short, online entry form by May 8.
Along with the chance to win up to $25,000, participants will foster meaningful connections and get advice from experts and peers, an editorial feature in an upcoming issue of Inc. magazine and Inc.com, and a video shoot. 
The UPS Store and Inc. magazine will determine 10 semifinalists and put their entries to a public, online vote. The vote will run June 7 to July 5 to narrow the contestants down to the top five finalists who will then compete in this year's Small Biz Challenge: Virtual Studio Event in late July.
The five finalists will be challenged to answer complex questions, give elevator pitches, and solve situational problems on the fly. Cash prizes will be based on a tiered scale:
First place prize winner up to $25,00
Second place prize winner up to $20,000
Third place prize winner up to $15,000
Fourth place prize winner up to $5,000
Fifth place prize winner up to $5,000
Are you a small business or know one that would be great for the contest? Visit inc.com/theupsstore for information, rules and regulations, and contest entry.
Small Biz Challenge: The Roundtable Discussion
On Thursday, May 6 at 2 p.m. ET, celebrity chef, author, and television host, Carla Hall, will moderate the first virtual event titled "Small Biz Challenge: The Roundtable Discussion" with notable business experts, Alexa Von Tobel, Tristan Walker and Sarah Paiji Yoo. The four will reflect on the last year and discuss ways small businesses can continue to evolve and move their businesses forward, as well as share insights from The UPS Store's fourth annual Inside Small Business Survey.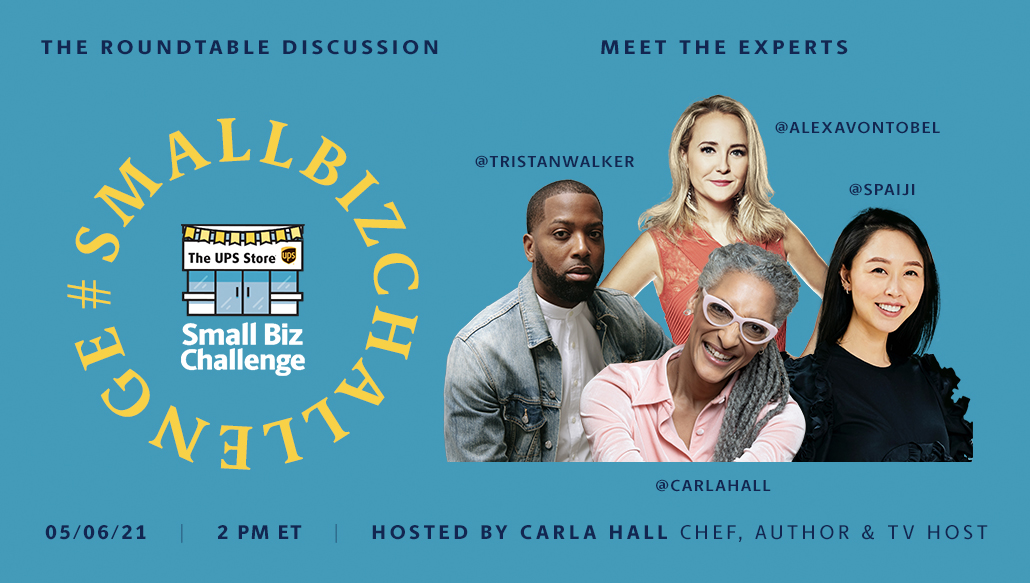 Information on how to register for this roundtable discussion will be available mid-April on inc.com/theupsstore.
Keep up with the latest on the Small Biz Challenge by following The UPS Store using the related links.