For 31 consecutive years, UPS Airlines has been a presenting sponsor of Thunder Over Louisville, one of the largest air shows and fireworks displays in North America.
The theme of this year's show was "Illuminating Our Community," focused on bringing the celebration to Louisville neighborhoods April 17. The timely theme took on a more special meaning for the flight crew operating the UPS Boeing 767 in the show. For the first time in the event's history, the UPS flight crew were all Black.
Louisville native and First Officer Jordan Dorsey was on the Thunder flight.
"It's an honor. It's been an airshow I've attended every year since I was a little kid," said Jordan, who flew next to Capt. Norman Seawright.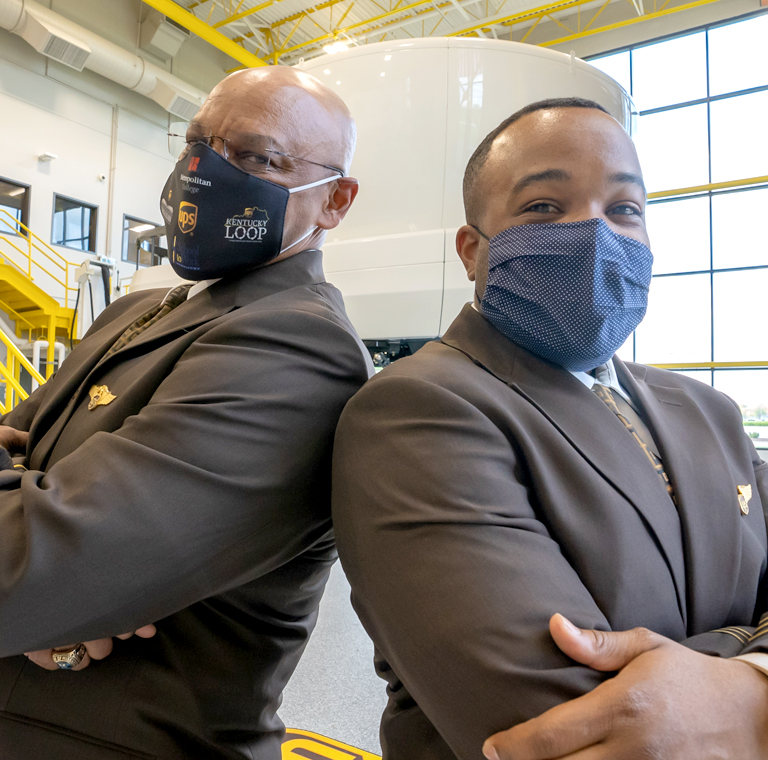 "Here's a young man who has expressed an interest in aviation since the time I've known him, and he's fulfilled his dream," said Norm.
Norm is a longtime volunteer with OBAP – Organization of Black Aerospace Professionals – and the OBAP/Shawnee ACE Academy in the Louisville area. Through both organizations, Norm works with youth in the community to build a diverse pipeline for future aviators. 
The flight's safety observers were Capt. Jeff Harrison and Capt. Sean Horton. Both hope the flight inspired kids, especially minorities, to think about a career in aviation.
"You usually don't see folks like us in this position," said Jeff, who is also part of an elite team that established the OBAP Luke Weathers Flight Academy, a fast-track program that provides training and resources needed to go from zero experience to airline pilot in two to three years. It's a program Jordan also was a part of while he was growing up.
In 2020, Sean was selected for the Bingham Fellows program. Bingham Fellows is the leadership-in-action arm of the Leadership Louisville Center, bringing together a diverse group of about 40 experienced Louisville leaders to address a critical issue for the region. Additionally, Sean has been instrumental in volunteering with the OBAP/Shawnee Ace Academy.
"If we inspire just a handful of kids to pursue aviation, I consider our mission to be completed," said Sean.
The crew operated one of UPS Airline's recently upgraded Boeing 767s, featuring advanced avionics technology that saves fuel and reduces emissions.
The Thunder fly-by is also a victory lap of sorts for the airline's maintenance and engineering teams. With more than 150 757s and 767s in the fleet, the final technology modifications were completed this month.