As the official logistics partner of Expo 2020 Dubai, UPS is showing how rethinking logistics and sustainability is good for both business and the world by highlighting its sustainable urban delivery vehicles.
This includes the debut of the Fernhay eQuad. Less than three feet wide, the four-wheeled electric-assist cycle is catering to complex urban deliveries allowing the driver to easily move through congested narrow streets and to pedal in bike/cycle lanes.

"The eQuads are specifically designed with changes in urban delivery in mind," said Luke Wake, vice president of maintenance and engineering. "Many cities around the world not only have more pedestrian areas but are also growing fast, resulting in more package deliveries in busy areas inaccessible to larger vehicles. The eQuad is a solution that can deliver throughout cities reducing noise, emissions and congestion."
The eQuad started its journey in the U.K. and made stops in France and Germany, before arriving in the UAE, where it will be showcased at Expo 2020 Dubai. This new vehicle builds on UPS's growing fleet of sustainable delivery solutions that improves air quality, decreases congestion and reduces emissions.
UPS's use of eQuads complements its three-wheeled Rytle eBikes which will also be showcased during the expo and are perfect for navigating dense urban areas.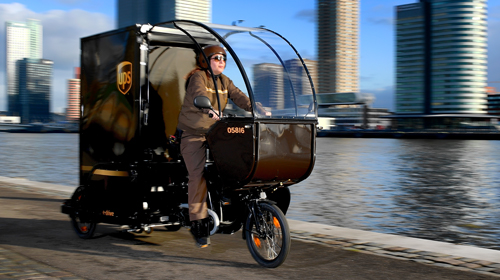 UPS will also feature its futuristic Arrival EVs. Developed in partnership with U.K.-based transportation technology firm Arrival, these vehicles use state-of-art charging technology to provide more than 150 miles of travel on a single charge – a longer range than other vehicles.
Overall, UPS has more than 12,000 alternative fuel and advanced technology vehicles deployed worldwide, and is committed to purchase up to 10,000 electric vehicles from Arrival.
"We are very excited to have these great technologies at Expo 2020," said Alan Williams, vice president, Expo 2020 sponsorships and operations. "We have a unique opportunity to showcase innovation and our sustainable logistics that will take us into the future."