UPS Healthcare has announced a new set of facilities and more global expansion as it continues to bring sophisticated healthcare logistics capabilities to customers around the world.
What's new: A new set of facilities throughout Europe, Asia-Pacific and North America will introduce unprecedented healthcare capabilities to global customers.
This includes a first-of-its-kind, end of runway, reusable cold chain packing center in the U.S.
Why it matters: UPS's success with COVID-19 vaccine delivery is creating long-term value in the future delivery of new drugs, especially biologics. The company's temperature-controlled facilities are designed to handle biologically derived drugs, such as vaccines, at any temperature.
"With new facilities and capabilities, UPS Healthcare is better positioned to safely manage the growing number of temperature-sensitive biologic drugs, as well as cell and gene treatments currently in development," said UPS Healthcare President Wes Wheeler."
Sustainable solutions: The newest facility – near UPS's global air hub in Louisville, Kentucky – is the company's first U.S.-based logistics facility to offer reusable cold chain packaging options for customers.
"Not only does the new facility expand our offerings for cold chain logistics, but the reusable packaging cuts down on single-use waste, creating more sustainable options and driving significant cost savings for our customers," said Chief Corporate Affairs Officer Laura Lane, who also has responsibility for UPS's sustainability efforts.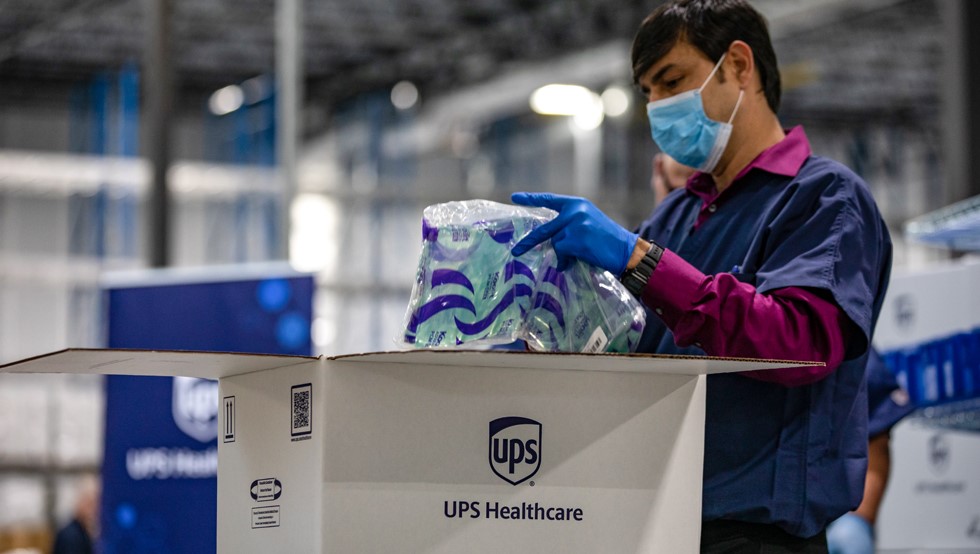 By the numbers:
UPS Healthcare now operates 125 GDP/GMP facilities in 34 countries around the world.
Cold chain trends show 48% expected growth between 2018 and 2024 for medicines that require at least 2 to 8 degrees Celsius storage and shipping (Biopharma Cold Chain Sourcebook).
The overall market for cold chain services (packaging, transportation and data services) is expected to grow to 24% by 2024.
Learn more: See how UPS Healthcare closes the loop on reusable package waste. Click on the infographic below.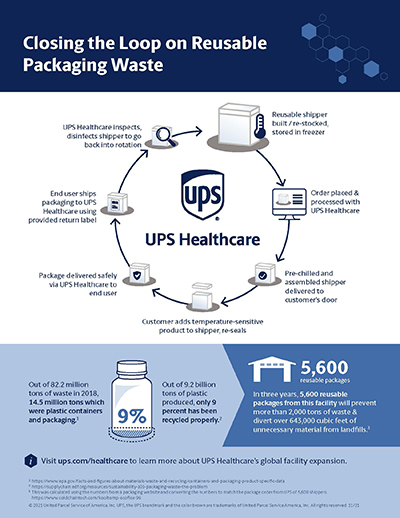 Did you know: UPS Healthcare has partnered with The UPS Foundation to help ensure equitable vaccine access. Meet some of the UPSers delivering hope around the world.