Thanksgiving turkeys can't fly – unless they're onboard a UPS cargo jet. For more than 20 years, UPS has shipped thousands of organic, free range turkeys known as Willie Birds for cooking retailer Williams-Sonoma. The turkeys are brined, sealed and delivered via UPS Next Day Air in time to become the centerpiece of holiday dinners across the United States.
"We know we have Thanksgiving dinner in our hands, so UPS goes to extraordinary lengths to ensure every one of these turkeys is delivered on time," said Scott Johnson, director of Enterprise Accounts – Retail, who manages the Williams-Sonoma account for UPS.
The COVID-19 pandemic has had an impact on customer buying habits, according to Williams-Sonoma. The number of Thanksgiving turkey shipments doubled this year. And the average size of the portions ordered is smaller.
"In anticipation of traditional large family gatherings for Thanksgiving not being possible this year, Williams Sonoma adjusted and added to our turkey assortment to accommodate smaller dinners by offering various sized birds or even just a pre-stuffed turkey breast," said Williams Sonoma's Public Relations Director, Kendall Coleman.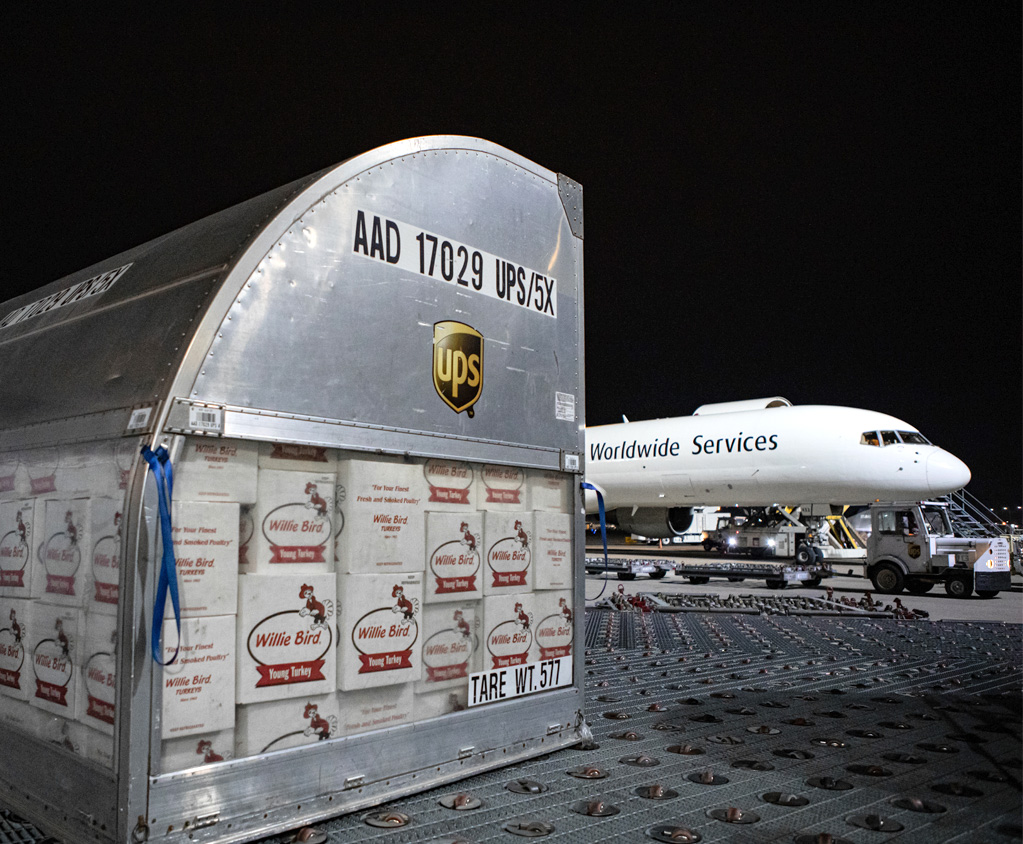 On Monday, Nov. 23, a dozen UPS trailers filled – you could say "stuffed" – with Willie Bird shipments left from Diestel Family Ranch, Williams-Sonoma's turkey supplier. The birds were destined for UPS flights departing from five California airports, and delivery the following day across the country. Planning for Operation Willie Bird began months ago and left nothing to chance. UPS alerted all of its U.S. delivery drivers with specific instructions for delivering the high-priority packages. And they had a dedicated phone number to call with any delivery issues.

On the receiving end of that phone call was UPS Proactive Response Manager Mary Golden, who leads a team of customer care representatives dedicated to the Willie Bird shipments. Proactive Response watched the turkeys from the moment they left the farm, ready to step in at the first hint of a potential problem, even a single missed package scan somewhere en route.
"We do whatever it takes," Golden said. "Several years ago, roads were impassable in North Dakota after a huge snowstorm. The package center manager there had a friend with the snow plow, and used the plow to get through and deliver the turkey," she said.
The pandemic mashed many families' holiday plans this year. But the collaboration between UPS and Williams-Sonoma helped to satisfy the desire for smaller, safer Thanksgiving celebration.