What's the story:  What if there was a way to boost the global economy and create 288 million to 433 million jobs worldwide? According to a March 2022 report by Citigroup Inc., parity among men and women entrepreneurs worldwide could do just that.
This isn't news to UPS: Back in 2018, UPS and The UPS Foundation launched the Women Exporters Program (WEP) to help address the disparity in education and workforce participation between men and women by providing targeted assistance to women-owned small and medium-sized businesses (SMB) worldwide.
How the program works: Through partnerships with government agencies, non-governmental organizations and other stakeholders, UPS leverages influence and education to help women around the world overcome barriers to free trade.
"Since the program's inception, we have collaborated with 15 external partners to provide local expertise. And these initiatives are paying off." Said Maria Luisa, VP International Trade for UPS.  In a recent survey of global small businesses, UPS found that female-led small-and medium-sized businesses have prioritized digitizing operations and sales over the last three years to grow their business. This leads to results. This 2023 survey also found that SMBs with an online and multimarket presence had much stronger revenue growth in the last year than those that did not.
The UPS Women Exporters Program provides education on international trade subjects like:
Skills building for e-commerce and digital trade
Access to financing
Resilience training and tools
Best practices for warehousing, logistics and packaging
Instructions for tariff and trade regulations
"We also realized we couldn't limit it to women. We had to expand it to all small and medium-sized businesses," Maria Luisa said. "So we launched global webinars and training in all parts of the world for small businesses."
As of June 2023, the program has trained over 110,000 women and small business owners around the world. Check out some global highlights: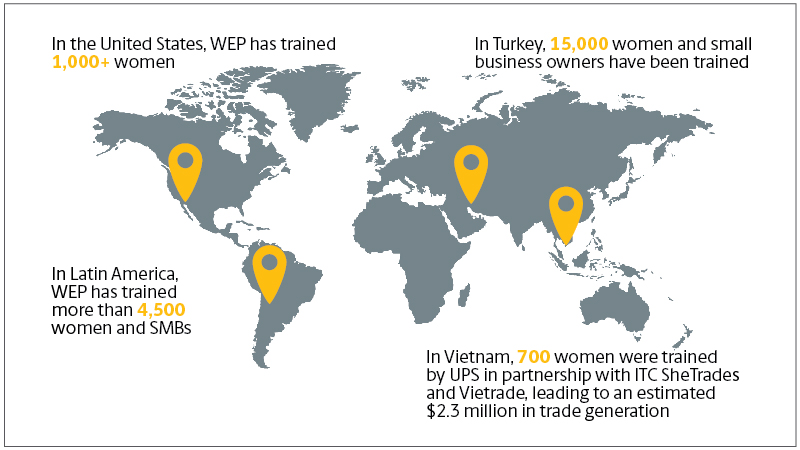 Five years in the making: "We are so proud of the growth and success of WEP. Helping more small and medium-sized businesses export is key to unlocking more prosperity for communities around the globe. UPS is dedicated to forging new futures for entrepreneurs," said Maria Luisa.
Did you know? UPS is bringing the Women Exporters Program to Canada in partnership with nonprofit Startup Canada.
Interested Canadian entrepreneurs can apply through Startup Canada. Applications are open until Friday, October 13, 2023, and the program will run from September 19, 2023 to February 27, 2024.