Pulling together: More than 400 UPSers volunteered at this year's UPS Plane Pull for Special Olympics in Louisville, Kentucky. Teams took part in some friendly competition to see who could pull a 155,000-pound airplane 12 feet the fastest.
The event raised over $100,000 to help Special Olympics Kentucky offer year-round sports training, leadership opportunities, health screenings and inclusive school programming for 11,000 athletes. In the last year, The UPS Foundation has also given over $60,000 to Special Olympics Kentucky programs.
Change starts with us: UPSers are committed to showing up where we live and work. At our Worldport air hub in Louisville, the Transitional Learning Center provides specialized training to people with disabilities to help them succeed in their jobs. To date, we've trained and hired more than 500 new UPSers.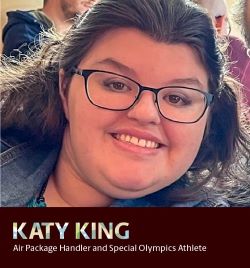 Get to know Katy: "My friends told me about UPS and I knew I wanted to work here. I love it," said air package handler and Special Olympics athlete Katy King. "I tell everyone they are welcome at UPS."
"I love the insurance here and am proud to make my own money. I'm saving money to buy a house, on the beach or on the lake."
"UPS is great and they will teach you a lot of things like how to work safe. I talk to my family and friends about working for UPS."
Equal opportunity for all: "UPS has been great for her," said Katy's proud dad Jeff King. "She wasn't sure what she was going to do after she graduated high school. Her job has allowed her to make good money, save her money and have her own benefits."
You belong at UPS: Programs like the Transitional Learning Center are part of our long-term commitment to building a more inclusive and equitable UPS, and a more inclusive and equitable world.
In case you missed it: