Charlene Thomas, UPS's chief diversity, equity and inclusion (DEI) officer, recently refreshed the
company's commitment to building not only a more inclusive and equitable UPS,
but also a more inclusive and equitable world.
To move our world forward, we must move our culture forward. A culture that fosters equity, transparency, courage, creativity and a sense of belonging.
You belong at UPS
These four words combine input from employees, DEI experts and UPS leadership as a rallying point for our promise to each other and to our world.
This is UPS's commitment to build an inclusive, diverse workplace for its employees,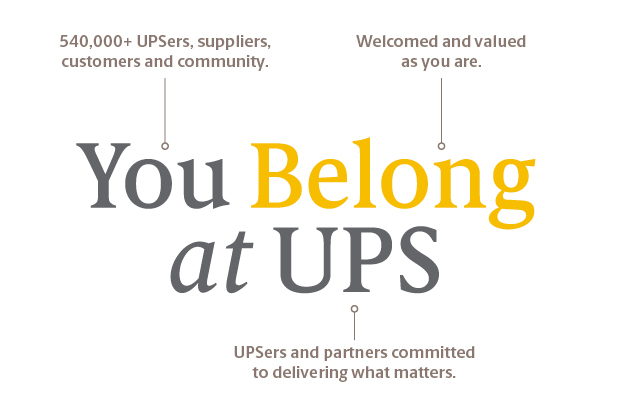 customers and suppliers. You belong at UPS is intended to inspire feelings and
actions of belonging, openness, connectivity and welcoming.
As a people-led company guided by a strong purpose, we value the contributions of all our people and encourage everyone to bring their unique perspectives, thoughts, backgrounds,
talents and skills to work every day.
We are #BetterTogether and #StrongerUnited.