"You have one life. What are you doing with it?"
The question is one UPS 747 Capt. Kelly Lepley has posed to herself more than once. Now, she asks the same of others.
"All of us have a story," she said. "Who owns the copyright to it?"
Kelly – based in Anchorage, Alaska - has a story that has seen more twists, turns and redirections than an aircraft searching for safe passage around a storm.
Taking off
"I had one thing in my life – ever since I was child – and that was to be a female pilot," she remembered. "One was assured, but the other not so much."
Her parents did all they could to help the journey. Kelly's dad, a truck driver, made the nightly 10-hour roundtrip from Northern Michigan to Detroit, and sometimes she'd join.
"I made three vows back then," Kelly said with a laugh. "One, I would never work nights (now most of her UPS flights are at night). Two, I would never do public speaking after a disastrous experience in high school (she has since presented a TED Talk and has made numerous public speaking appearances). And three, I would never live further north than the 45th parallel in Northern Michigan, exactly halfway between the equator and the North Pole (she now lives in Alaska)."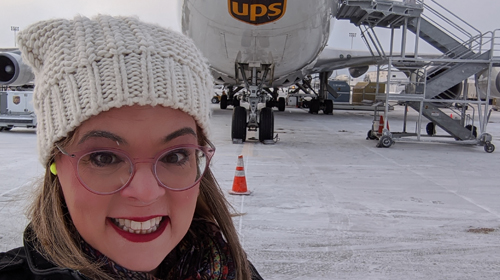 A few years later her father took Kelly to the local community college in Traverse City, Michigan, to find out how to get a private pilot's license.
Kelly went to high school in the morning and college in the afternoon. She had a private pilot's license by 17, a commercial instrument rating at 18, and was teaching students to fly by 20. At the ripe old age of 21, she had her first airline job as a flight engineer.
Ten years later, Kelly joined UPS.
"From the outside looking in, one would have thought I had my act together; that I had achieved the dream; that I had made it in life," she said. "I had the beautiful home, fenced in yard, a loving spouse with two children, a rental property business, an orphanage in India with over 50 kids …"
All the outward perfection hid a secret, and at the age of 40 everything would begin to change in a tsunami of transition.
Changes
"I was born with something called gender dysphoria," Kelly shares today – a proclamation more difficult to make a decade ago. It wasn't until the mid-'90s that researchers and scientists began to understand the complexity and cognitive differences when it came to this condition.
Even though Kelly realized very early on in her life who she was, there was little to no information back in the '70s. To fit in, she learned to suppress her true identity.
"As a child, I thought if I could just mirror my identity after the gender of my dad over and over, I would be like him."
But it simply wasn't that easy. A quick analogy helps.
"My body is producing this hormone that my brain does not receive," Kelly said. "If you have a computer system from an Airbus and a computer system from a 747, if you take one out and put it in the other, it doesn't read it. The same goes for the way our brains are wired male and female. If our brains don't have the receptors for the information being sent, it makes it very challenging to thrive."
Finally, however, despite her prayers to be the gender the world saw and expected her to be, the research she had done led her to a turning point. She shared with her wife information she gathered from doctors, and a divorce and parental rights battle ensued. She lost her home, much of her savings and retirement, her standing in her church and many people she considered friends. And she nearly lost her children due to a lengthy court battle.
"Transitioning from one gender to another is not for the weak of heart," Kelly said. "The uninformed call it 'gender confusion,' but no one would choose to make such a drastic change based simply on confusion."
Looking back, moving forward
Beyond knowing she did the right thing, Kelly has nothing but praise for UPS and fellow UPSers.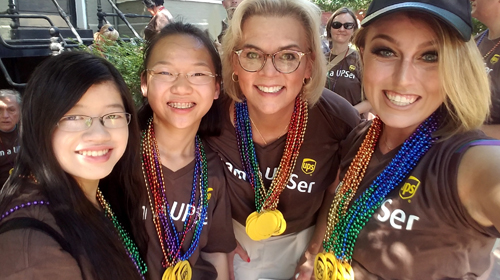 "UPS was incredible with everything," she said, remembering the day she had to tell her chief pilot she was transitioning from a man to a woman. It was not an easy task.
"He stopped me and said, 'Don't worry about it … I'm here for you." I cannot tell you how much that meant to me having someone I looked up to, say that. He believed in me when much of my world was crumbling."
At the time, her benefits did not include gender reassignment surgery as anything other than a cosmetic procedure. Kelly paid for the procedures herself. She then used this experience to champion the cause for others and was instrumental in educating UPS leadership about the medical research supporting the procedures. Her advocacy helped UPS make the decision to begin covering the surgeries and hormone treatments a few years later.
Her UPS TED Talk in 2015 might have been the tipping point.