What's new: UPS recently hosted an executive roundtable discussion on supply chain issues to examine the challenges from different perspectives.
Why it matters: The already complex environment of global logistics is experiencing unprecedented disruption as customers and carriers seek to define a new normal. The goal, to build a more resilient supply chain that will meet the growing consumer demand.
Insights from a UPS Executive: Philippe Gilbert, president of UPS Supply Chain Solutions, authored the following article that details what it's going to take to solve the supply chain crisis:
Nearly two years of pandemic-related turbulence has left global supply chain leaders in uncharted waters. The size and scope of disruptions we face today are unlike anything we've seen in the global logistics business, which, even in relatively calm times, is complex, dynamic and constantly evolving.
The ongoing crisis has sparked seismic shifts in the way companies and consumers source and receive goods. We've seen unprecedented and unpredictable supply chain disruptions, as well as the rapid acceleration of long-simmering trends.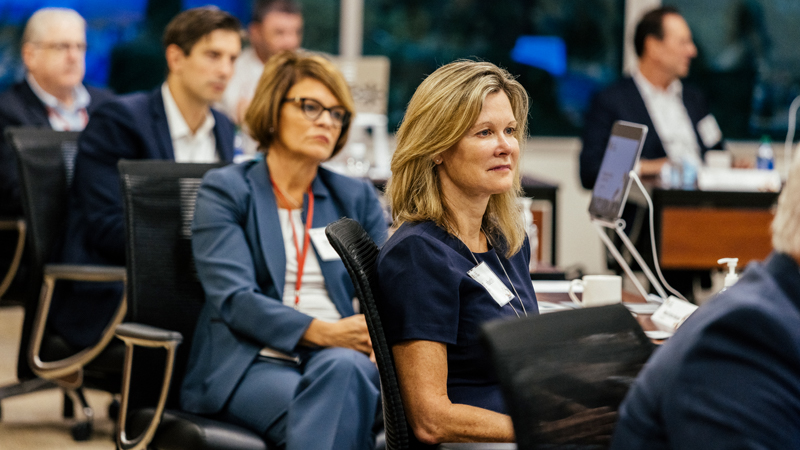 This much is certain: We must work together to find solutions that address our current challenges and fuel our shared success in the future. All of us — customers and carriers — own the responsibility of defining the new normal for supply chains and logistics.
UPS recently hosted an executive roundtable discussion on supply chain issues at our global headquarters in Atlanta with leaders from some of our top customers, including Caterpillar, Procter & Gamble and Verizon. We also invited industry experts from organizations like Boston Consulting Group, Blume Global and the Council of Supply Chain Management Professionals.
UPS and its guests took every precaution to ensure a safe in-person event. All participants had been vaccinated against COVID-19, and we maintained social distancing throughout the gathering. We felt it was crucial to meet face to face to assess and address our shared challenges together.
Our objective was to examine our current supply chain challenges from different perspectives. We explored the impact of the pandemic on air and ocean freight capacity. We asked ourselves how we can achieve supply chain resiliency moving forward. And we committed to working together to create more fluid and predictable supply chains.
What we learned
Our group was in alignment on many key points. For example, we understood the pandemic has introduced unexpected disruptions such as surging direct-to-consumer deliveries. We've seen reduced aircraft capacity, which triggered increased air shipping rates and lead times. And we've seen ocean freight rates skyrocket due to container shortages.
The pandemic has also accelerated long-term disruptions in play long before we'd even heard of COVID-19. The logistics industry has been evolving for some time, becoming more digital every day. This new digital experience is driving simplification across the entire value chain. Furthermore, supply chains are shorter, faster and nimbler with the rise of near-shoring and reshoring. We're also witnessing a permanent step change in e-commerce.
For our part, UPS aims to grow alongside these macro shifts. We shared with the roundtable participants insights on our digital transformation. COVID-19 has clearly intensified the need to embrace digitalization. UPS has rolled out a new suite of digital engagement tools that enable our customers to harmonize their supply chains with forwarding, brokerage and supply chain visibility solutions.
Meanwhile, our customers (and collaborators) shared their perspectives on supply chain challenges and solutions — it was helpful to hear our partners' strategies. One of our guests explained the pros and cons of leasing ships to bolster their supply chains. We agreed that this creative, short-term solution can be inefficient in the long run but remains a viable option worth exploration. Our group also agreed on the importance of advancing our environmental, sustainability and governance goals even as we navigate our way through business disruptions.
Ultimately, we agreed that we must chart our path forward together. In a business as intricate and complicated as supply chain management, collaboration is key.
If we are united in our objectives and maintain open communication, we can rise to the challenge of this moment and transform global supply chains and help build a safer and more prosperous world for us all.
I'm grateful to the industry leaders who attended our recent executive roundtable and was excited to be part of a group of innovators with such power to drive progress. Together, we identified major opportunities for collaboration to ride the wave of disruption to greater heights together. In the coming weeks, UPS will use these insights to develop supply chain strategies and solutions to better serve our customers around the world.