As we head into fall, there couldn't be a better time to start planning for the holidays.
Here's what you need to know about holiday shopping, buying and shipping ahead of the season. (You can also check out UPS CEO Carol B. Tomé's recent interview on CNBC's Closing Bell).
What UPS is doing
Our focus is on three key things:
1) Flexing our network in preparation for the volume surge.
2) Planning carefully, in close collaboration with our customers.
3) Continuing to move our world forward by delivering what matters – including vaccines and new job opportunities across our company.
We're preparing to make this one of the most successful holiday shipping seasons ever. That starts with reliable, on-time delivery. Last peak shipping season, UPS led the industry for overall on-time performance. And we are ready to deliver that this season again.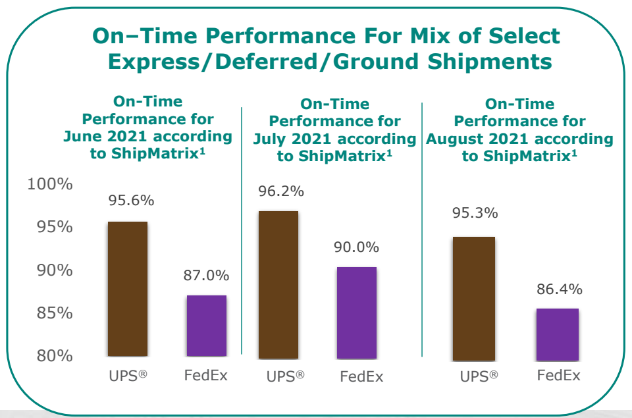 Source: ShipMatrix, Inc. on time performance analysis for a sample mix of express/deferred/ground shipments, June-August, 2021. Excludes UPS SurePost® and FedEx SmartPost®
UPS is ready
We can process 130,000 more packages per hour than last year.
We are taking deliveries of 11 new aircraft to the fleet this year, and a total of 54 between 2017 and 2022 (almost 12 million pounds of extra payload).
Adding 2 million+ sq. feet of automated facilities this year by the end of the year.
Nearly 90% of packages will flow through automated facilities.
Our crystal ball tells us …
Well, it's not exactly a crystal ball – it's experience. We've been through this a few times and have a good idea of what to expect.
The biggest logistical influences on our holiday season will be:
Continued acceleration of online buying and home delivery.
Demand for package delivery and shipping services will outstrip available capacity – across the industry.
Ongoing global supply chain challenges such as tight airfreight capacity, ocean backlogs and truck driver shortages.
Inventory costs, warehouse prices and transportation costs will continue to rise as demand for these services increases.
What you can be doing as a consumer
Buy early. Take advantage as major retailers start promotions earlier in the season and have more inventory.
Ship early. Knock that list out and send holiday gifts well in advance of the holidays.
Top 5 things you can be doing as a business owner and shipper
1) Remind customers to buy early.
2) Plan for Cyber Weekend as the final push in the season, not the kickoff.
3) Make sure the promotional calendar lines up with earlier purchases and product arrival/availability.
4) Staff store and logistics operations using 2020 as a baseline, as opposed to 2019 (pre-pandemic).
5) Ask your customers 'When do you need this?' during checkout and optimize between delivery date and fulfillment operations.