In the face of the COVID-19 pandemic, UPSers have come together to serve our customers, our communities and each other. Your efforts shine a light on the best parts of humanity. Tenacity, teamwork and kindness. For that I am thankful and so very proud of you.
Sadly, recent incidents in Brunswick, Georgia, Minneapolis, Louisville and New York City, and the resulting social unrest across America confront us with a different reality. A reality that reveals the worst in humanity. A reality that hate lies just below the surface and discrimination, fear and violence can happen anywhere. It has affected me deeply. I'm sad, I'm angry and I'm ashamed as I see people treat others with contempt and hate. So I turn to our values … the values established by Jim Casey 113 years ago. I'll call out three that seem particularly relevant today:
Integrity. It is the core of who we are and all we do.
Safety. The well-being of our people, business partners and public is of utmost importance.
Sustainability. A commitment to social responsibility.
I'm turning my anger to action by living our values. Not just talking the talk, but walking the talk. Please join me. By living our values UPSers will continue to shine a light and be a beacon of hope for others.
Thank you.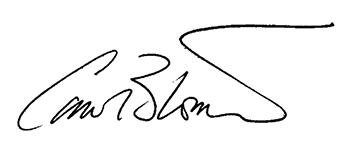 Carol B. Tomé