It isn't often high school students can work a summer job that directly affects the environment where they live. That's why the Student Conservation Association (SCA) inaugural Atlanta Community Crew program stands out.
The program offers Atlanta teens the chance to make lasting and sustainable contributions to their communities. It also opens the door to new friendships, a network of mentors, and other SCA opportunities like out-of-state internships.
SCA is a non-profit organization that engages young people in hands-on service through conservation and land stewardship opportunities. Part of its purpose is to build the next generation of conservation leaders.
A worthwhile investment
With $300,000 in funding support, The UPS Foundation helped SCA launch this program, the first of its kind in the Atlanta community. SCA runs similar programs in nine other cities, as well as in national parks, forests, and refuges across the country, and has placed more than 95,000 young people to work in U.S. parks since 1957.
Beginning in June, nine students from high schools in Atlanta worked to conserve several national and urban parks, beginning with Martin Luther King, Jr. National Historical Park. The students rotated to a new park every two weeks and completed projects at Chattahoochee National Park, Mozley Park, Trail 400 Park and Kennesaw National Park. They cleaned litter, mulched flower beds, re-surfaced gardens, and repaired gates, among other activities.
Life-changing impact
One of the program leaders, Alexis "Lex" Mpezo, is a 22-year-old college student from College Park, Georgia whose passion for humanitarian work goes beyond her studies. She believes the Community Crew program is important for Atlanta. "The majority of urban environments are home to tons of marginalized communities whose voices are drowned out by external distractions," she said. "Conservation is about bettering communities for everyone."
Robert Wasi, a rising senior at Arabia Mountain High School, said, "I'm gaining tons of skills and historical information from this job opportunity. Working across the national parks for the summer has definitely been a good thing to do, especially since it's for our local community."
As part of the first SCA Community Crews program in Atlanta, these students are playing their part in creating safer, more sustainable and resilient communities.
Commitment to equity and economic empowerment
Joe Ruiz, vice president of social impact and The UPS Foundation, called the Atlanta Community Crew students "future environmental leaders and champions of our city" during their program kick-off meeting at UPS's Sandy Creek hub facility in Atlanta.
Before completing an interactive facility tour at one of the company's largest ground package processing facility in the U.S., the students learned about UPS sustainability and conservation efforts and The UPS Foundation's commitment to plant 50 million trees by 2030.
"We're excited to partner with SCA to bring this job program to our hometown of Atlanta, creating green jobs that also offer pathways to future employment in conservation and sustainability," Joe said. As a part of the program experience, students connected with members of the UPS African American Business Resource Group (AABRG) to network and share their backgrounds and experiences.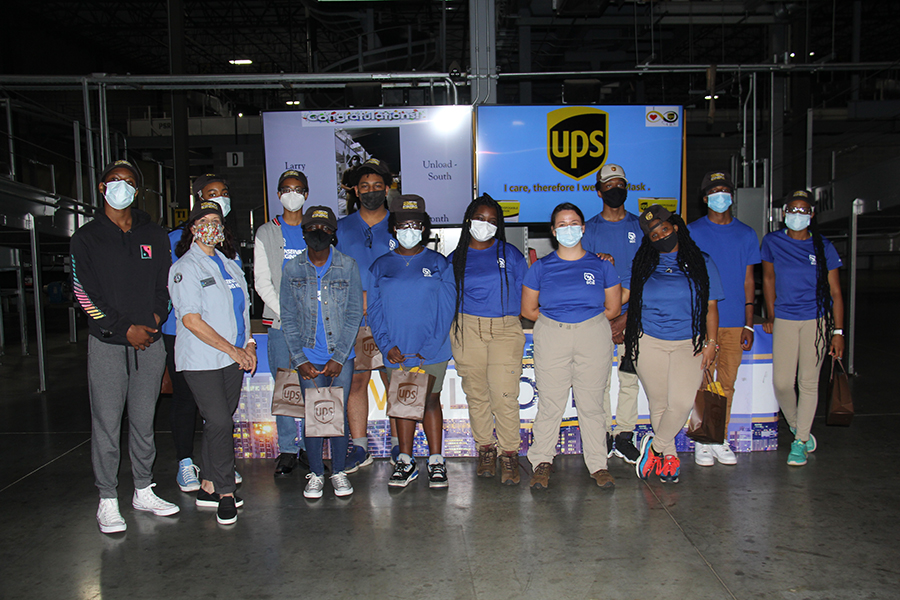 The UPS Foundation is laser-focused on including equity and justice in all areas of its work. Our goal is to provide young people with exposure to career pathways, a network of friends and mentors, and a more livable environment for everyone.