The challenge: UPS committed to shipping 13.8 million vaccine doses to Indonesia. But distributing temperature-sensitive vaccines to remote villages scattered across the country's more than 17,000 islands requires a customized strategy.
The solution: UPS Healthcare partnered with CEO of Red Lightning Michael Shiffler to develop a system tailor made to address the logistical challenges of Indonesia. The plan Michael created for transporting vaccines to remote villages of the Central Sulawesi province is now used throughout Indonesia to support clinics serving 176 villages in isolated areas.
"Moving 13.8 million doses is about big logistics," said Craig Arnold, vice president of sales for UPS Healthcare. "Getting doses into rural jungle villages while maintaining temperature is the extreme last mile logistics solution."
Take a deeper look: Highlights from Michael's 2021 photo diary give a behind-the-scenes look at how he researched, worked with UPS and The UPS Foundation and tested the solution implemented in Central Sulawesi province.
April and May 2021, Central Sulawesi
Indonesia's health authorities were using ice-based containers that could only keep vaccines at the right temperature for four to six hours, risking spoilage – especially during long journeys to remote areas.

The UPS Healthcare team and I came across The Crēdo Cube™ in our research. The box is filled with paraffin wax, which has a melting temperature of about 4 degrees Celsius (about 39 degrees Fahrenheit) and can keep vaccines at the right temperature for up to four days.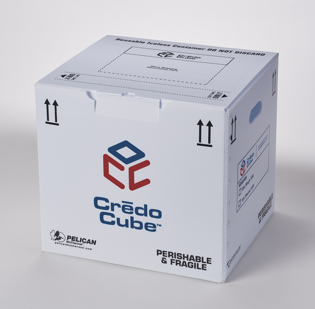 Image source: Pelican Biothermal
June 17, 2021, Central Sulawesi
The health authorities in Sigi were not familiar with the Crēdo boxes and wanted me to run some tests. They needed to know if the boxes could withstand the Indonesian heat.
I used temperature loggers to record both external and internal box temperatures over a week, and I'm so pleased with the results. While the external temperature stayed at 30 degrees Celsius for three days, the internal temperature was a cool 4 to 5 degrees Celsius throughout.
I showed them the results today, and they were impressed. We're planning an ambitious four-day trip to three remote villages to test this out.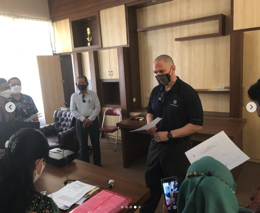 June 25, 2021, Central Sulawesi
We just finished our epic trip to Dombu, Kantewu and Lindu.
Dombu:

We packed the vaccine doses and traveled several hours by car. The clinic there does not have vaccination storage on site, so the box served as an interim freezer.



Kantewu:

This six-hour journey – four hours by car and another two hours by motorcycle – demonstrated that the box could keep vaccine doses cool during the long treks to even the most remote clinics.



Lindu:

Continuing to Lindu from Kantewu required another four hours of driving, including two hours by motorcycle. Like in Dombu, the box was used as a short-term, on-site freezer for the vaccine doses.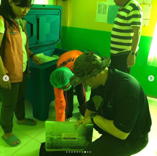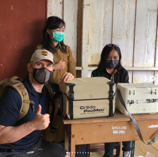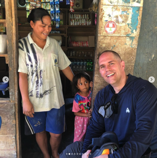 Light and easy to transport, the Crēdo boxes are a great solution for transporting vaccine over long distances and hard-to-reach areas.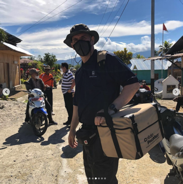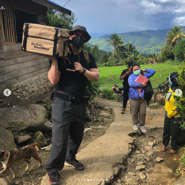 What an amazing week! Awesome teamwork!
Late June, Central Sulawesi
I spent time with vaccination teams from the Sigi Regency Ministry of Health. I showed them how to condition the boxes in a freezer, how to activate the boxes immediately before use, and how to remove the vaccines from storage and use temperature loggers to record data.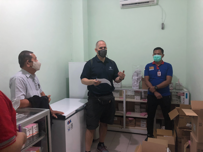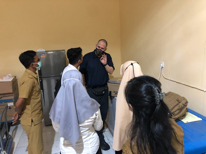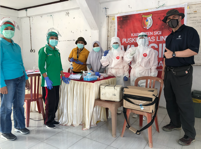 July 7, 2021, Arizona, USA
It's great to be home after a few action-packed months. More equipment is arriving in Sulawesi. The UPS Foundation has supplied 10 boxes and four freezers placed in strategic locations within the province.
The Foundation also provided another 35 boxes for vaccine deliveries to rural areas across Indonesia. I received these pictures of the team hosting a training on how to activate the boxes and use them properly. I'm so thrilled and happy to see this in action.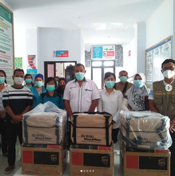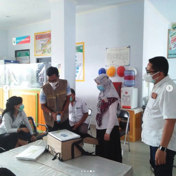 I'm off to Malawi, Africa, with The UPS Foundation for another adventure and will take many of the lessons learned in Indonesia with me.