From coworkers to customers to cuddly canines, Jenny Rosado is friend to all.

"Many people think being a package car driver is a lonely job. But I'm a real people person, and going on the road and meeting people is one of the reasons I love this work," Jenny said.
For her, being on the job is a chance to be part of a community, to interact with different people and see how they live and think. And she makes it her mission to generate smiles wherever she goes.
"It's great. I come to work and I'm delivering to my friends. Some of them are like family. So we have a really good time out here." Jenny said. "In fact, one of my customers just texted to let me know the LGBTQ flag is up at the local church."
Four-legged residents look forward to Jenny's visits too. Dogs and other family pets – anticipating treats and affection – perk up at the sound of her delivery truck coming down the road.
Jenny's role as a UPSer extends beyond customer service. She's a leader, mentor, motivator and volunteer.
As co-chair of her center's safety committee and a member of UPS's Circle of Honor – drivers who've logged at least 25 years without an accident or injury – Jenny has the street cred to mentor new drivers.
"I'm proud of how much UPS's focus on safety has evolved. It's very different from when I started over 30 years ago," she said. "Now, with the help of the safety committees, as soon as new drivers come through that door, we take them in and start mentoring them. We don't want them to be afraid or overwhelmed."
In addition to safety coaching, Jenny tries to encourage her coworkers.
"We look out for each other. When my coworkers are frustrated, I do what I can to bring them along," she said. "A few days a week, I send out either a positive quote or a question of the day – my way of helping drivers be more aware of their feelings and start their days off on the right foot."
Jenny gives back to her community through volunteerism, whether it's representing at a local pride parade or being involved with UPS's recycling program that turns old uniforms into dog leashes.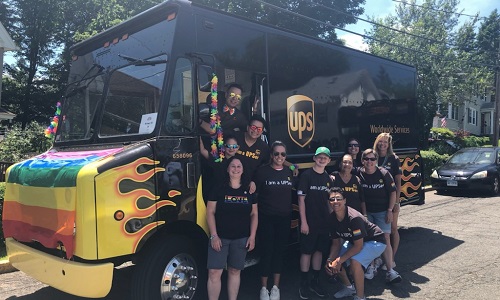 Recently, Jenny participated in a panel discussion with Together for Safe Roads where she talked about the importance of being safe for yourself, creating a safe environment for others and avoiding distractions.
As enthusiastic as she is about her job and customers, Jenny's real passion is her family – her wife, Beth, and their two children, Nathan and Maya.
"Our kids are amazing, so caring," Jenny said. "We teach them to be positive and accepting of other people. I always tell them, 'Don't ever judge anyone. You don't know where they're coming from or what they've experienced.'"
In 2019, Jenny appeared in an episode of the YouTube series HiHo Kids that's gotten more than 2.5 million views. Check it out here.