Sophia Yeshi is unstoppable.
So when UPS began looking for an artist to capture the essence of its Proudly Unstoppable campaign in support of Black-owned small businesses, Sophia was the perfect choice.
"I own my business. I own my successes and the lessons I've learned in the process … I own what makes me powerful and power past anything standing in my way," Sophia said. "I own the future I'm building for myself and for my community. I own my purpose and my pride."
Her purpose, and UPS's purpose of moving our world forward by delivering what matters, fit naturally together – something important to Sophia when choosing collaborators.
"The brand has to align with my goals and mission," Sophia says. "It has to be an authentic relationship."
More than a campaign
UPS has been proactively reaching out to minority-owned small businesses throughout the COVID-19 global pandemic. In addition to partnering with Sophia of Yeshi Designs – and UPS's first commissioned artwork titled "Let's Rise Together" – the UPS Proudly Unstoppable campaign strives to make a tangible impact.
Small businesses have been hit hard by the pandemic, and minority-owned businesses have been hit especially hard. According to a McKinsey Study, 57% of Black-owned small businesses are at risk or distressed – the highest among all ethnic groups.
Proudly Unstoppable is doing something about all of that by amplifying minority voices and the needs of those communities.
UPS is committing to breaking down barriers that get in the way of small business owners achieving their goals. That's why UPS has partnered with the 30 Day Fund, a non-profit that provides forgivable loans to small businesses. UPS will make a donation every day in February, providing direct assistance to 28 Black-owned small businesses to help meet payroll, preserve medical benefits and save jobs.
UPS will spotlight Black-owned small businesses in newly designed SMB collection boxes. Small businesses featured include: Ellie Bianca Beauty, Essie, Panther Graphics, Red Bay Coffee Company and Sassy Jones. Two of these – Ellie Bianca and Panther Graphics – will tell their stories of inspiration for starting their businesses and UPS will highlight them in February on various UPS internal and external channels.
Finally, UPS has created a Proudly Unstoppable landing page to communicate its support of Black-owned small businesses and share its commitment to equity and social justice and most importantly, action.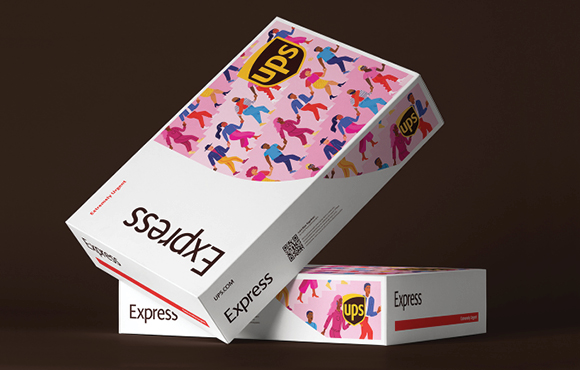 About those boxes and Yeshi Designs
Sophia's artwork will turn ordinary into extraordinary as it's showcased on 600,000 UPS medium-sized Express boxes and limited-edition envelopes available at select locations of The UPS Store.
As a Black and South Asian illustrator and graphic designer based in Brooklyn, New York, Sophia created her business to shine a light on Black women, women of color and those in the LGBTQ community – people who are bold, dynamic and should command attention.  Sophia Yeshi is one of those, too.