What's new: British Columbia artist Marian Bantjes partnered with UPS to design limited-edition Prouldly Unstoppable shipping boxes and envelopes to support women-owned small businesses.
UPS is shining a global spotlight on women-owned small and medium-sized businesses (SMBs) on the Proudly Unstoppable landing page.
UPS has partnered with WeConnect International

, an organization that provides financial assistance to women-owned small businesses. Through this partnership, UPS will award

grants to women-owned small businesses

in Canada in the month of March.

Since 2018, 17,000

women and small business owners connected to the global economy and UPS's network in more

220 countries and territories

through our

Women Exporters Program

.
Why it matters: The pandemic has disproportionally affected women, and women-owned small businesses, and many have worked hard to overcome business challenges.
Nearly six million women have lost their jobs worldwide since February 2020.
Women are 47% more likely than their male counterparts to lose their jobs, with many taking up self-employment to help support families and families.
About the artist: Marian realized the importance of women's empowerment later in life when, as a self-employed artist and business owner, she took in the full measure of the power of community.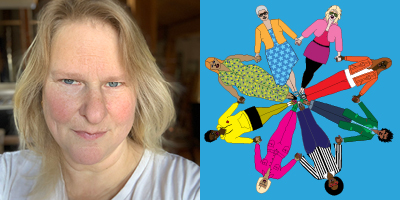 What she's saying: "Today, I'm much more sympathetic to the struggles of women and how the education of girls is a major factor in raising communities out of poverty," says Bantjes, who professes to 'use art to subvert the ordinary'.
About the art: Titled "Women of the World Unite," the piece Bantjes created depicts a pattern of women holding hands to show connected groups celebrating community and lifting each other up.
"I wanted to send the message that there is strength in numbers and as women, we have each other's support and understanding. There are a lot of women doing great stuff and it should be celebrated."
Order your limited-edition Express Envelope on the Proudly Unstoppable landing page before they run out.
Learn how UPS is committed to engaging with and supporting women-owned and diverse businesses.