What's the story:  What if there was a way to boost the global economy and create 288 million to 433 million jobs worldwide? According to a March 2022 report by Citigroup Inc., parity among men and women entrepreneurs worldwide could do just that.
This isn't news to UPS: Back in 2018, UPS and The UPS Foundation launched the Women Exporters Program (WEP) to help address the disparity in education and workforce participation between men and women by providing targeted assistance to women-owned small and medium-sized businesses (SMB) worldwide.
How the program works: Through partnerships with government agencies, non-governmental organizations and other stakeholders, UPS leverages influence and education to help women around the world overcome barriers to free trade.
"We started with two main partnerships when we launched the program – the International Trade Center based in Geneva and their She Trades initiative. The other partnership was the USAID under the Women's Global Development Prosperity Initiative and the eTrade Alliance," said Maria Luisa, vice president of international trade for UPS global public affairs. "Today, we have more than 15 partnerships."
Working together, these organizations provide tools, training and networks that help women-owned businesses connect with financing and potential customers globally.
The UPS Women Exporters Program provides education on international trade subjects like:
Skills building for e-commerce and digital trade
Access to financing
Resilience training and tools
Best practices for warehousing, logistics and packaging
Instructions for tariff and trade regulations
"We also realized we couldn't limit it to women. We had to expand it to all small and medium-sized businesses," Maria Luisa said. "So we launched global webinars and training in all parts of the world for small businesses."
As of January 2023, the program has trained over 107,000 women and small business owners around the world. Check out some global highlights: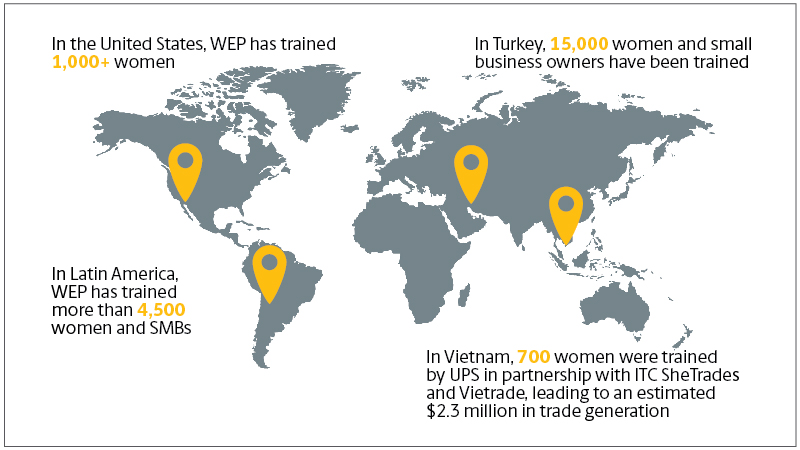 Five years in the making: "We are so proud of the growth and success of WEP. Helping more small and medium-sized businesses export is key to unlocking more prosperity for communities around the globe. UPS is dedicated to forging new futures for entrepreneurs," said Maria Luisa.