What's new: Hamburg-based illustrator Danii Pollehn created a design for UPS's express shipping envelopes as part of its "Proudly Unstoppable" initiative supporting and empowering women-owned small businesses.
Specially designed, limited edition UPS Express Envelope featuring Danii's artwork.
UPS is shining a global spotlight on women-owned small and medium-sized businesses (SMBs) on the Proudly Unstoppable

landing page.

UPS has partnered with WeConnect International

, an organization that provides financial assistance to women-owned small businesses. Through this partnership, UPS will award grants to women-owned small businesses in Germany in the month of March.

Since 2018, 17,000

women and small business owners connected to the global economy and UPS's network in more

220 countries and territories

through our

Women Exporters Program

.
Why it matters: The pandemic has disproportionally affected women, and women-owned businesses, and many have worked hard to overcome business challenges.
Nearly six million women have lost their jobs worldwide since February 2020.
Women are 47% more likely than their male counterparts to lose their jobs, with many taking up self-employment to help support families and families.
About the artist: Danii uses her colorful and life-affirming art to support women from all cultures and people with chronic illnesses become more visible in the public eye. "Colors and shapes give me strength," Danii tell us. "I'm already looking forward to spring when everything becomes more colorful…signs that the seasons are turning around again here in gray Hamburg. It's also important to me to share a part of myself with others."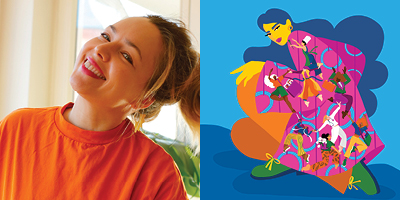 About the art: Danii says, "I wanted to show that we women actually function like a swarm of bees. That we benefit from the experiences of previous generations and from our circle of family and friends. That we can go much further when we go together and share the experiences and advice of other women. We should support each other and grow together as a result. I wouldn't be where I am today if I didn't have my network, my friends, my mother and grandma."
Delivering what matters: UPS is moving the world forward through a commitment to inclusivity and equity.
31% of UPS board members are ethnically diverse and 46% are women.
UPS is led by one of the few female CEOs

in the

Fortune 500

,

Carol B. Tomé.
Women make up one-third of our C suite.
Last year, the UPS Women Exporters Program

trained and coached

2,200 women

on integrating their small businesses into the global economy.
Order your limited-edition Express Envelope on the Proudly Unstoppable landing page before they run out.
Learn how UPS is committed to engaging with and supporting women-owned and diverse businesses.